Alucarda (1978)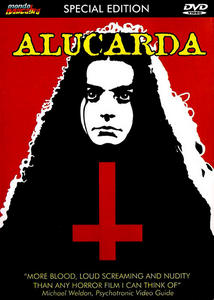 Alucarda (1978)


aka

Alucarda, la hija de las tinieblas

aka

sisters of Satan
Genre: Horror
Country: Mexico | Director: Jack Woods
Language: English or Spanish (2 separate audio channels) | Subtitles: English (.srt file)
Aspect ratio: 1.48:1 | Length: 82mn
Dvdrip Xvid Avi - 712x480 - 23fps - 1.36gb
http://www.imdb.com/title/tt0067055/

In the 1800s, young orphan Justine (Susana Kamini) arrives at a repressive convent where Alucarda (Tina Romero) has spent her life since infancy. They become fast friends and, while frolicking in the woods, encounter a sinister gypsy (Claudio Brook) who warns them about a nearby cemetery, the devil's stomping ground. After unleashing a malevolent power inside one of the tombs, Alucarda proves to be the most susceptible upon returning to the convent. The gypsy then magically reappears and initiates the girls into the ways of the horned one, courtesy of a blood rite and a sylvan orgy. Potentially bisexual Sister Angelica (Tina French) realizes something's amiss and decides to stage an exorcism, though the ceremony of tying the girls naked to crosses proves to have disastrous results. The local physician, Dr. Oszek (also Brook), finds himself unable to explain away the bizarre deeds occurring within the convent walls, which escalate when Justine seems to be killed... or does she?

A long way from those K. Gordon Murray Mexican horrors for the kiddies, Alucarda is one of the more striking and shocking south of the border gothic fests from the golden age of cinematic sleaze. Replete with nuns, devil worship, blood baths, and sadistic religious fanaticism, this is one drive-in jewel ripe for rediscovery.

The sets are imaginative and quite impressive. The convent has the appearance of a cave and the multiple tiered Christs hanging from the ceiling is one of the most brilliant props I have ever seen! Instead of traditional habits, the nuns are clothed in what appears to be torn bloodied bandages. Tina Romero, who plays Alucarda gives a brooding and wonderfully wicked performance. When the action starts, it keeps a spirited pace right through to the end. There is more hysterical female screaming then I've ever witnessed in a single film! The dialog is over dramatic at times and there are a few moments that are bordering on cheesy but Moctezuma's strange, daunting and moody presentation keeps it from slipping into silliness. You will be treated to bizarre images, flagellating nuns, satanic rituals, copious nudity, lesbianism, and bloody violence. It is all complimented nicely by some trippy organ music.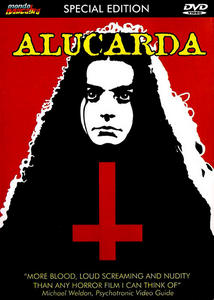 http://www.filesonic.com/file/52516071/Alu78.part1.rar
http://www.filesonic.com/file/52516073/Alu78.part2.rar
http://www.filesonic.com/file/52516075/Alu78.part3.rar
http://www.filesonic.com/file/52516077/Alu78.part4.rar
http://www.filesonic.com/file/52516079/Alu78.part5.rar
http://www.filesonic.com/file/52516081/Alu78.part6.rar
http://www.filesonic.com/file/52516083/Alu78.part7.rar

pass:vicb567